About Us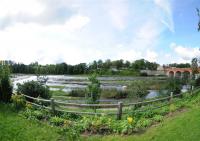 The tourist abode "Ventas Rumba" is located on the right bank of the Venta River just opposite to the falls, on romantic artificial Mārtiņš Island, which took its shape thanks to a channel dug as long ago as in the times of Duke Jēkabs
You will live between the two main tourism objects of Kuldīga - the broadest in Europe falls (249 m) known as Rumba, and one of the longest in Europe brick bridge built in 1874.
Our Guest
We offer 2 - 10 bed rooms. The abode itself is arranged in a centennial house, the exterior of witch still retains it unique appearance, but the interior is of course contemporary.
We offer a hall for banquets and seminars, and sauna.
During Springs, tourists have an opportunity to look though their room window at vimba-trout and salmon jumping into the fall.
During Summer, each tourist can take an opportunity to use the force of falling water for massaging their body.
In evening - romantic picnic at a bonfire.
On the opposite bank of the river, Old Kuldīga Town is located, featuring its inimitable architecture and the Alekšupīte Brook.
"Pīlādzītis" Cafee will offer to you substantial dishes and wide variety of beverages.
Walking ways 3 - 10 km long with instructor.